Roles may have attributes, altering the way how they are affected by other roles' abilities. Attributes are integral to gameplay. You can find a role's Attributes by looking at their card and reading the "Attributes" section.
Immunity
Immunity refers to one of four types of special attributes held by many roles in the game. They will prevent certain abilities of having an effect. Each of these immunities is entirely beneficial to the character. The four kinds of immunities are Role Block Immunity, Control Immunity, Night Immunity (Defense), and Detection Immunity.
Night Immunity allows the player to gain Defense during the Night phase. All roles with Night Immunity have at least Basic Defense. Roles that have Night immunity are as follows: Godfather, Serial Killer, Arsonist, Werewolf, Executioner (unless target dies at Night), Veteran (only on alert), Vampire Hunter (only against Vampires), Survivor (only with a bulletproof vest), Witch (until attacked once), Juggernaut, Plaguebearer/Pestilence, Doctor (with self heal), Bodyguard (only with bulletproof vest), and Coven Leader (only with Necronomicon).
It is worth noting that temporary defense is different from permanent defense, as a Veteran alerting or being given Powerful Defense (that isn't a heal or purge) will not save the player from dying to Poison once it has been applied. However, the defense gained from becoming another role (Mafioso into Godfather) and the Coven Leader's Basic Defense (upon obtaining the Necronomicon) will save the player from dying to Poison.
Live

---

Die
No

Attack

Basic Attack

Powerful Attack

Unstoppable Attack

Lynching

No

Defense

Basic Defense

Powerful Defense

Invincible Defense

Guardian Angel Protection
Basic Defense
Basic Defense is a form of immunity which protects a character from being killed at Night from a Basic Attack. Roles with Basic Defense must be lynched during the Day or killed at Night by roles who have Powerful or higher Attack strength.
If you Attack somebody with Basic Defense, you will get the message "Your target's defense was too strong to kill.". As of Version 3.2.4, the Defense message is still shown if the target was healed.
Roles With

Basic Defense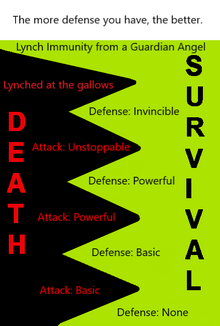 If any of these roles is attacked with a Basic Attack, they will receive a message, "Someone attacked you but your Defense was too strong!" Some roles receive a message unique from the standard defense message.
Roles Who Ignore

Basic Defense

(i. e.

Powerful

or

Unstoppable Attack

)
Powerful Defense
Powerful Defense is an immunity which protects a player from being killed at Night from a Powerful or Basic Attack. Roles who are given Powerful Defense are unable to be killed at Night unless said person is dealt an Unstoppable Attack.
Roles With

Powerful Defense
There are no roles who have permanent Powerful Defense. However, all protective roles have the ability to give others Powerful Defense at Night:
Roles Who Ignore

Powerful Defense

(i.e.

Unstoppable Attack

)
Do note that a Guardian Angel will stop a Jailor's execution, and purge the gasoline off of their target before an Arsonist can ignite them.
Invincible Defense
The Invincible Defense cannot be killed at Night by any means. A Basic, Powerful, or Unstoppable Attack will not bypass this Defense. The only way to bypass this Defense is by lynching said target during the Day.
Currently, only one role,

Pestilence

, has

Invincible Defense

.
Detailed death chart
This section is a work in progress.
Columns are for Attack, while rows are for Defense.
means the role cannot be attacked that way unless they are controlled.
means the role cannot be attacked that way.
Attack

vs

Defense

Bodyguard

Trapper

Jailor

Veteran

Hex Master

(final

Hex

)

Hex Master

(

Necronomicon

)

Medusa

(without

Necronomicon

)

Medusa

(with

Necronomicon

)

Poisoner

Arsonist

Juggernaut

(0-2 kills)

Juggernaut

(3 kills)

Werewolf

Pestilence

Pirate

Jester

Ambusher

Coven Leader

Crusader

Godfather

Mafioso

Necromancer

(using

Basic Attack

)

Necromancer

(using

Powerful Attack

)

Necromancer

(using

Unstoppable Attack

)

Potion Master

Serial Killer

Vampire

Vampire Hunter

Vigilante

Retributionist

(using

Basic Attack

)

Retributionist

(using

Powerful Attack

)
Die guarding someone
Die from guilt
Broken heart
Lynching
Suicide

Godfather

Serial Killer

Werewolf

Godfather


(ordering

Mafioso

)

Veteran


(on alert)

Executioner

Bodyguard


(using their vest)

Doctor


(using their self heal)

Survivor


(using their vest)

Arsonist

Plaguebearer

Pestilence
Detection

Immunity
Detection Immunity applies to roles that "seem innocent" to the Sheriff. All Townies (unless Framed or Hexed) have it automatically, but some roles earn it or can obtain it.
Roles With Detection Immunity
Roles that ignore Detection Immunity
Role Block

Immunity
Roles with Role block immunity are unaffected by role blocking. If an Consort, Escort, or Pirate role blocks any role block immune role, the role block will fail, and the role will still perform their action.
When in jail, you are effectively role blocked, even if you are role block immune. If an Escort or Consort tries to role block you while you are jailed, you will receive the message: Someone tried to role block you but you were in jail.
Roles with Role block Immunity
In addition:
The

Veteran

will shoot the role blocker should they be on alert, and

Pestilence

will obliterate them automatically.
The

Serial Killer

can choose to be cautious, not attacking any roleblockers and stabbing only their intended target. If cautious is not selected when roleblocked, role blockers will die making their wills bloodied and unable to be read, and the intended target will die as well if said role blocker is not a

Jailor

or

Pirate

.
If any of these roles are role blocked, they will receive the message: "Someone tried to role block you but you are immune!"
Roles partially unaffected by roleblocks
Control

Immunity
Control Immunity is a kind of immunity which lets a character be unaffected by a Witch/Coven Leader's attempt to control them. However, they may still be the secondary target. If a Witch/Coven Leader attempts to (or is forced to by a Transporter), their ability will fail and their target will be notified.
Roles With Control Immunity
Side Notes:
If some of these roles are controlled, they will receive the message: "A Witch tried to control you but you are immune."
This message applies even when a

Coven Leader

is the controlling player.
The controlling player will still learn the role of their target.
Control Resistance
An Astral visit is a form of visit where you do not leave your house. This visit will not be seen by Lookouts, Trackers or Spies that are on your target, and will not trigger any mechanic that relies on you visiting a player.
Roles that have an astral visit include:
Priority
Priority determines which roles do their actions first in what order. Each role with a Night ability has a priority labeled 1 through 6, with 1 being the highest priority and 6 being the lowest. For example, if a Mafioso, which has a priority of 5, attacks a Veteran on alert, which has a priority of 1, the Veteran will kill the Mafioso and gain defense before the Mafioso can kill the Veteran because it has a higher priority. Other roles have priorities yet to be determined because of how long it takes for their ability to take effect. Only one role, the Executioner, has no ability, therefore, they have no priority.
Note that abilities which take place during the Day or are selected in the Day will have higher priority than priority 1. Day abilities include a Jailor choosing who to jail, a Mayor revealing to the Town, a Pirate choosing who to plunder, and a dead Medium choosing who to seance the following night.
Special

Attributes
There are few attributes which aren't immunities. Below is a list of current special attributes.