Dead Cells Final DLC - The Loop
Play Sound
Different players use a variety of different behaviors throughout the Day/Night phases to prevent themselves from being lynched or killed. The usual methods include: why players whisper, suspicious role claims, suspicious behaviors in general, and psychology.
Whispering
[
]
Whispering could mean many things: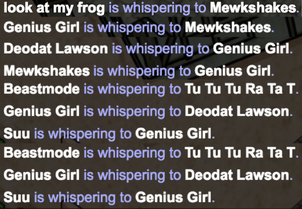 They are sharing their roles.
They are

Mafia

establishing their next target/collecting information.

Sometimes, the

Mafia

can't wait to find out at

Night

what the investigated target of the

Consigliere

was. However, if they converse during the

Day

, they are doing this in plain view of the

Town

. This may lead to suspicion and is what some players call a "rookie move". The best way to figure out what they are saying is to whisper them back asking why the whispers. If they fail to answer, this will increase suspicion and therefore will have them lynched.
Sometimes, when there is a

Janitor

in game, they might want to find out what a cleaned role was, or a

Blackmailer

telling their partners about whispers. Perhaps they may even be asking questions.

They are a

Neutral

Benign

role who is trying to choose a side.

Neutral

Benign

roles, especially

Amnesiacs

, have a hard time choosing a side to play with. This is why they gain information by whispering, because otherwise, they will make each side to assault them with propositions (also by whispering). Keep that in mind before saying something like "These whispers are suspicious".
They are exchanging information.

If people are whispering around discussion or voting, they could be trying to grasp valuable information or are communicating with fellow players for protection methods.
They could be a

Guardian Angel

revealing themselves to their target.
It might not mean anything at all.

Some players might be friends just chatting with each other. Others might recognize each others' names from a previous game. Don't assume too much.
Role-claiming
[
]
Anybody can go wrong when claiming a role, and it is very easy to claim poorly.
Suspicious Behaviors
[
]
Reverse Psychology
[
]
One of the best, but also a very risky, strategies to avoid being killed at

Night

or lynched is to use "reverse psychology." This means telling players exactly what you want them to do, knowing that they will do the opposite. If you tell the

Town

"please kill me tonight," the

Mafia

and

Neutral

Killing

roles probably won't go after you, figuring you're useless or a

Veteran

. Some

Sheriffs

or

Investigators

will visit you, proving your innocence. This works extremely effectively with

Jesters

in particular. If you voted guilty or abstained on a

Jester

and you think they will haunt you, plead the

Jester

to kill you tonight, telling him you don't want to live anymore or saying it will make you very happy. The

Jester

will likely pick someone else just to annoy you, but in reality, this is exactly what you wanted. However, some kind 

Jesters

 may haunt you just to please you, so be careful about using this strategy.
Another way to possibly buy yourself a

Night

is to do everything you can to make yourself look annoying and suspicious during the

Day

. Evil roles tend to ignore players they figure will be hanged the following

Day

. The only downside to this is

Vigilantes

and a

Jailor

. If a

Vigilante

has proven himself to shoot randomly or a

Jailor

executes at will, do not bother trying this, they will likely not be able to see through your plan.
If you are put on trial as an evil role and you have no credible defense, admit to the

Town

who you are and tell them everyone you killed, how you killed them and why you killed them, and why this role is stupid. If you are convincing enough, you will be bought one more

Night

and not hanged for the fear of being a

Jester

.
Bussing
[
]
Bussing is a strategy used explicitly by Mafia, Vampires, and Coven members, which involves lynching a member of your team on purpose to seem like a confirmed Townie. Bussing isn't against the rules as long as you do this with the intention to win. This is used especially in Ranked, but can also be used in Custom or even Classic mode.
Voting for Roles
[
]
When all leads have dried up or the Town wants to be proactive, players will "vote for role," commonly known as "VFR." They will select a player and vote them up to the stand to make them claim a role and provide a Last Will. While this tactic is often successful, it is also controversial and usually throws suspicion onto the player voting for roles, especially outside of middle/high Elo Ranked. Contrarily, this behavior is expected in Ranked.
Normal procedure for VFR is to vote up the first player (number 1) and ask for role, moving down the list. However, most skilled players will instead vote up people who appear suspicious or quiet, instead of voting in a pre-determined pattern. It is incredibly uncommon for someone to vote a random person for role.
Voting for Role is often seen as gamethrowing by some since it defeats the whole reasoning and deduction part of Town of Salem. VFR also gives

Jesters

free easy wins with no skills needed. VFR is usually used by inexperienced players who are unable to deduce results by themselves.
A revealed

Mayor

will often vote for role any player who has yet to claim a role. Both

Townies

and evil roles will vote with them to avoid looking suspicious.
If a

Town

Investigative

thinks they may have found an evil role and the player is not responding to their questions, they might simply VFR that player to avoid outing themselves.
Evil roles will vote for role if they have reason to want a particular player dead, such as a

Bodyguard

or a competing evil role. Doing VFR on a

Bodyguard

often results in a successful lynch, as both the

Godfather

and

Arsonists

can safely claim

Bodyguard

.
An

Executioner

might vote their target up for their role to throw suspicion on them and hopefully have them lynched, especially if the

Town

seems inexperienced or lynch-happy.
Some players consider VFR to be random lynching and a suspicious behavior, but others believe it to be a tried and true method of establishing a full list of claims and outing evil roles.
This tactic is less commonly used on someone who has previously claimed a role, usually a

Town

Investigative

, to force them to provide their will. This can be done with the intention of checking the claim's validity or gaining new leads.
This is a Jailor Strategy in Ranked, also known as the 'Jailor Meta'.
In Version 2.3.2.9706, BlankMediaGames announced they are aware of the "Jailor Meta", and as a counter they buffed Arsonist, allowing it to bypass Bodyguard and Traps without dying. In Version 3.25, Arsonists now Doused anyone who visited them, making it even more risky. In Version 3.3.0, Ambusher and Hypnotist have escaped the Coven Expansion, making it even more risky. The usage rate of this meta has since decreased, with the exception of some gamemodes, including Town Traitor.
Instructions
Problems and solutions with this strategy 

An evil role may claim

Jailor

on the first

Day

in order to divert protection onto them, leaving the actual

Jailor

exposed to being killed. The Evils may then attack the other player who claimed

Jailor

(as they would be the real one) and since the protection may have been diverted onto the fake claim, the real

Jailor

would die. This, however, is a very risky strategy to kill the

Jailor

and may not be worth it as the

Jailor

can easily out you as a fake without even having to execute you on the second

Night

.
An

Ambusher

may go on

Jailor

Night

1, resulting in someone such as a

Lookout

or

Town

Protective

dying.

This will however almost always out the

Ambusher

, because there is almost always more than one visit on the

Jailor

Night

1.