GTA: The Criminal Enterprises - The Loop
Play Sound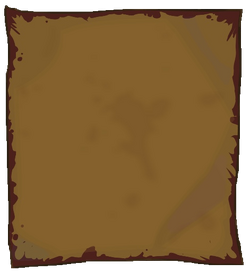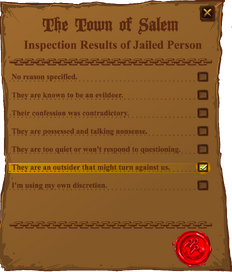 A Death Note is a piece of paper shown to the Town after a killing role other than Town Killing kills somebody, such as a Serial Killer or Mafioso. The Jailor has a separate Death Note but with multiple select choices.
If available to them, players can edit what is shown in a

Death

Note

using the button at the top of the screen, looking like a bloody piece of paper.
A

Last

Will

and

Death

Note

may hold up to 400 characters each. If a player dies, the

Death

Note

can be reopened and reviewed at any time by selecting their name in the graveyard area.
Uses of

Death

Notes
Sharing Information or Framing
Sometimes a

Death

Note

can include if a player has a form of defense to make sure the person who tried to kill said person isn't openly announced (e.g. the

Godfather

attacks Player A, but Player A's defense value is too high. The next

Night

, the

Godfather

kills Player B, and the

Death

Note

includes that Player A has defense, and is therefore suspicious).
Sometimes the

Mafia

may frame someone by saying, "Our

Consigliere

says [insert player's name here] is the

Arsonist

!" or, "[insert player's name here] has immunity." in their

Death

Note

.

This is one of the only cases where some people will trust a

Death

Note

, as players with high defense tend to be

Neutral

Killing

roles, which the

Mafia

want dead along with the

Town

. However, it is important to note that players may simply overlook a

Death

Note

, as they may think the killer who left the note is just trying to frame a random player.
Sometimes, a way of implicating others is by putting a player name in the

Death

Note

. Most players will probably realize this is not the real killer, but it may throw some suspicion around.

As said above, this is a less useful strategy, as players may simply overlook this tactic as a frame job.

If there are 2 kill capable

Mafia

roles left in the game, a good strategy is to pay attention to the

Death

Notes

, especially if the

Mafioso

's

Death

Note

is different from the

Godfather

's.
If the

Hex Master

has the

Necronomicon

, their

Death

Note

will only appear when players are killed by their astral attack.

This means if a player dies to the

Hex Master

's final

Hex

, the

Death

Note

will not appear, since it's technically a separate attack from their astral attack. This also is the reason why a player appears to have died to the

Hex Master

twice.
Revealing Yourself
For cocky and risky players, sometimes putting their own name in their

Death

Note

is a viable strategy as

Town

will assume the killing role is trying to frame this player.
Other Uses
Sometimes, the killer will actually be quite helpful and leave clues about who they are or who they will kill next. After connecting the clues or finding a pattern, you can enlist a

Bodyguard

(or

Crusader

/

Trapper

) to protect them in order to stop a mass-murdering spree. They may use a certain speech pattern or misspell specific words. However, beware of a killer planting false information.

Death

Notes

are still quite an important part of the game. This is because a person's role can often be found through

Death

Notes

or imitated. Experienced

Mafia

,

Coven

, or

Neutral

Killing

roles can impersonate someone and ensure that they are suspected. More experienced players may completely disregard it but they help prolong the discussion making it easier for the killers to survive.
A player should never use a

Death

Note

as a "calling card" (if they have acquired a killing role multiple times in consecutive games within a short time frame) as

Town

roles that are involved in two or more consecutive games with the same player may link a previously used

Death

Note

with the corresponding skin, house, pet and/or name of the player and call them out.

Death

Notes

can be used by a

Neutral

Killing

role to try to get suspicion off you. If people are accusing you of being a

Serial Killer

or something of that nature, kill someone that

Night

and put in your

Death

Note

, "[your name] is the

Serial Killer

," though more experienced players may call you out on the double bluff.

Deliberately misspelling your name helps divert suspicion from you, especially if that name is complicated (i.e. Kharnam Darhenn).

Death

Notes

are also commonly used to mock players or make jokes. Although this use of a

Death

Notes

isn't useful, many player have fun writing poems, comedic phrases, or simple jokes, such as, "Headshot". In most scenarios, however, it is much more useful to spread information or false information with

Death

Notes

.

Death

Notes

can be used to give you an extra ~8 seconds of time. This is useful if you're preparing a

Last

Will

or just need a little more time to think of what you should do next. Do keep in mind that this gives the extra seconds to everyone, not just you, so it could backfire.
As a

Jailor

, your

Death

Note

and its uses are different. Your

Death

Note

can be seen above.
You can choose between the following options:

No reason specified.
They are known to be an evildoer.
Their confession was contradictory.
They are possessed and talking nonsense.
They are too quiet or won't respond to questioning.
They are an outsider that might turn against us.
I'm using my own discretion.

If you never open your

Death

Note

, it will never show up. If you open and close it without selecting any option, the game will automatically select "No reason specified.".
It is used to confirm to the

Town

why you executed the player you did.
You can also use it to confirm yourself. In the rare case that you've been accused, tell the

Town

you will execute a certain suspicious player with one of the reasons checked in (e.g.: "I will execute player #1 tonight with 'Their confession was contradictory.' checked in."). This strategy is uncommon, as a

Jailor

claim is almost always believed, and you have to make sure there isn't a

Witch

/

Coven Leader

or 

Consort

looking to get you lynched.
Things to Note
Trivia
History
See Also