Mafia
As a small time attorney, the Lawyer specialized in writing wills for her clients. But as her gambling debts grew, she required more money than she could legally make. The solution? She began to alter her deceased client's wills to have a portion of their wealth distributed to various charity. These "charities" were just part of a shell game that increased the Lawyer's bank account, wiping out her debt. No one noticed until the Consigliere's father passed away, who just so happened to be a client of the Lawyer's. Due to his high levels of intelligence and his ability to read people, he saw through the scheme. Furious at trickery displayed by the Lawyer, the Consigliere demanded she be killed. But the Godfather looked at this with a level head and saw a plethora of potential. One phone call from the Godfather later, the Lawyer became the Forger. (credit)
Mechanics
[
]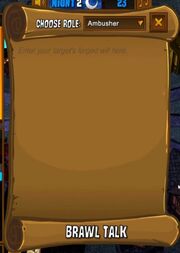 Strategy
[
]
Who to Forge
[
]
What to Write
[
]
Forging Specific Roles
[
]
What to Claim
[
]
If you are ever accused of being a member of the Mafia, it will most likely come from one of these roles. While you don't have much to defend yourself, there are a few options you have to deflect suspicion off of yourself.
Claim a role that fits with your investigation results: You can claim to be a

Lookout

and provide a fake

Last

Will

to prove your innocence. If it fits in the role list, your chances of surviving on trial will be higher. If you have a member of the

Mafia

claiming to be a visiting role, you can use them to try to confirm them and yourself. If there is a confirmed

Escort

or

Transporter

, or even better, a

Consort

or

Consigliere

claiming

Escort

or

Investigator

you can use their visits for your fake

Last

Will

so its not just filled with "No Visits".
Claim you were transported. This is another obvious way out, but it can work if there aren't a lot of dead roles. If there's a confirmed

Transporter

and you get called out for it, you will have no chance of surviving past that point, unless you somehow manage to convince the there is another

Transporter

or that they're lying. However, you have some wiggle room if you had forged a

Mafia

kill as a member of the

Mafia

the previous

Night

or two.
Claim your accuser is lying. This will only work early in the game, and if you only have one accuser. Claiming your accuser is an Evil role, or better yet, a member of the

Mafia

, and delaying as to not be lynched can work massively in your favor. If you are investigated or interrogated, you can even claim to be framed or one of the roles in your investigation result so the suspicion on you fades.
Dealing with a Role Call: These are often just before you reach a majority of the roles, so the longevity of your claim isn't as much of a concern. These can also happen early on.
Claim outside your investigative results. If it's near the end and your team has killed the enemies, feel free to claim anything. Claiming something with a non-suspicious investigative results is one of your best shots.
Claim inside your results. If you want to play it safe, you can claim to be a

Lookout

using the strategies above.
Roles Not To Forge
[
]
While funny to see pop up, all you really do by forging a target as one of these roles is confirm with certainty the existence of a Forger in the game. Only do this if you know that your team will win the following Day.
Trivia
[
]
History
[
]