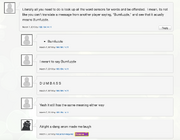 No one will ever read this, so I'll be putting shit here that no one will ever read. Cool? Cool.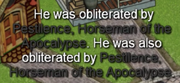 ALSO. If you are to call me something, call me Slug or Slugkitty. Do NOT call me Kitty. Why? Because cats are spawns of the Devil. They are disgusting things that live to shred carpets and flummery all over a backyard. I should know; my neighborhood is overrun with those...things.
Achievements:
Feb 15, 2019: 1000 edits
March 2019: ToTM
Role ideas that have the "Slug Seal of Approval":
STILL MAD THAT MANILA WAS ROBBED AND BOTH TRINITY AND MONET WON. LIKE BITCH WHAT THE FUCK?! Don't get me wrong, both queens were stunning, but bITCH MANILA SHOULD HAVE SNATCHED THE CROWN JSFKSDS
https://www.youtube.com/watch?v=AZS5cgybKcI
Some good lofi: scribe - untitled 9 4 o' clock I Still Don't Know Who I Am. wet season safe, now raindrops falling down Its All There

Give Kudos to this message
You've given this message Kudos!
See who gave Kudos to this message
Community content is available under
CC-BY-SA
unless otherwise noted.