Please contact me with any issues, flair changes, no-good vandalizing hooligans, game invites, anything!
I'm usually available especially in after-hours, so if you have anything on your mind, feel free to post it! If I cannot respond to you, try contacting me on Discord. I will try my best to get any questions answered.
Please do not remove messages from my wall unless they are past threads that were answered, or are just flummeryposts. I'll take all of them, thank you. You get to have none. All mine. No, no, you give that back! Gimme that thread back! Don't make me hurt you! You better give me that thread back right now!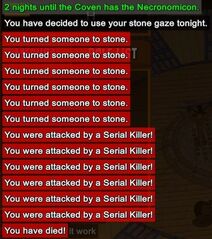 Give Kudos to this message
You've given this message Kudos!
See who gave Kudos to this message
Community content is available under
CC-BY-SA
unless otherwise noted.