The Necronomicon is an ability enhancer that is given to members of the Coven at the start of Night 3. The Coven Leader will always receive the Necronomicon first if there is a Coven Leader in the game. Other members of the Coven will receive it if the Coven Leader dies. The exact order of transmission is presumed to be randomized, but most evidence supports the Necromancer receiving it after the Coven Leader.
The purpose of the Necronomicon is to give the one holding it the ability to kill every night, similar to the Mafia's system. Some Necronomicon kills are given to support roles that otherwise rely on outside roles or situations to kill, for instance giving the Necromancer ghouls to use or giving the Hex Master a killing ability.
The member of the
Coven
holding the
Necronomicon
will gain
Detection Immunity
from the
Sheriff
, meaning they will appear as innocent instead of suspicious.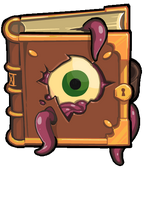 Community content is available under
CC-BY-SA
unless otherwise noted.