New Pokemon Games - The Loop
Play Sound
This page describes content that can only be accessed in the

Coven

Expansion

.
The Necronomicon is an ability enhancer that is given to members of the Coven at the start of Night 3. The Coven Leader will always receive the Necronomicon first if there is a Coven Leader in the game. A Medusa will not receive the Necronomicon unless they are the only Coven member alive. Other members of the Coven will receive it if the Coven Leader dies. The Necronomicon is given to the other Coven members in a select order. An Amnesiac who remembered the Coven Leader role will receive the Necronomicon once the current wielder dies.

The purpose of the Necronomicon is to give the one holding it the ability to kill every Night. Some Necronomicon kills are given to support roles that otherwise rely on outside roles or situations to kill, for instance giving the Necromancer ghouls to use or giving the Coven Leader a killing ability.
The Necronomicon is similar to the Mafia's promotion mechanics. However, the Necronomicon's purpose is to be a boost to the Coven, granting the holder the ability to kill every Night, but the purpose of promotion mechanics in the Mafia is to ensure that the Mafia can still kill. The Necronomicon also does not change a Coven member's role, meaning that the Coven will keep their existing abilities with the Necronomicon while a Random Mafia member will lose their existing abilities upon becoming a Mafioso.
The member of the Coven holding the Necronomicon will gain Detection Immunity, meaning they will appear as "seems innocent" to a Sheriff instead of "suspicious".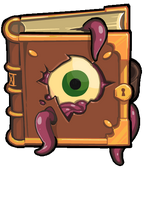 Effects
[
]
Trivia
[
]