This page describes content that can only be accessed in the

Coven

Expansion

.
Please note: You cannot roll

Pestilence

from the role wheel. The only way to get it is by rolling

Plaguebearer

and infecting everyone.
Screams rang through the cold night and the Doctor burst out of his house, barely just grabbing his medical kit as he raced along the streets. Arriving at the source of unrest, he discovered a young boy, lying down, coughing and sobbing. Instinct made the Doctor cover his face with his trusty mask, and he was right in doing so. A closer inspection revealed the alarming truth. The red rash, the hacking coughs, and the huge black boils that had risen on the pale skin… this boy had the plague.
The Doctor should have been scared, worried, horrified, he knew this, but instead, he felt... fascination. How quickly could this disease spread, how many people could it kill? Hastily he took a sample, and commanded the boy's family to be quarantined. Then, he hurried home to test this intriguing sample further.
A week, and the Doctor finally held the result he was looking for. All he had to do was drop the solution on the path outside everyone's houses, and the fumes would infect everyone who ventured there. He started to question himself, but then he remembered the other Doctor who always took the credit for himself, the Investigator who always snooped inside his house, the Jailor who roughly threw him in a cramped jail cell, and he felt better. Quickly and silently, the Doctor grabbed his solution and got to work.
Inhaling the sweet scents of the herbs he put in his mask, the Doctor infected person after person, using his dark robes to blend into the night. But on the fateful night that the plague spread to everyone in the Town, the evil Doctor realized its power. And as the moon was concealed under rolling grey clouds and the panicked screams rose from the town, Pestilence, Fourth Horseman of the Apocalypse, laughed so hard that tears rolled off his mask. (credit)
Mechanics
You may choose to rampage at a target's house each

Night

. You will automatically attack anyone who visits you. You are equipped with a

Powerful Attack

and an

Invincible Defense

.
Your

Invincible Defense

means you can not be killed at

Night

at all. You will bypass even the highest of attacks, such as an

Arsonist

ignition, an assault by a fully-powered up

Juggernaut

, a

Jailor

execution, a final

Hex

, a

Jester

haunt, and even dying from a broken heart (in Lovers Mode).
You are immune to any role-blocks and controls, cannot be caught by a

Lookout

or

Tracker

without you killing them, and you'll also be seen as innocent to a

Sheriff

. Additionally, if you are jailed, you will automatically attack the

Jailor

even if they try to execute you.
Since you only deal a

Powerful Attack

, anyone protected by any form of protection, such as from a

Town

Protective

,

Guardian Angel

, or

Potion Master

will survive, though the protector (except for the

Guardian Angel

) will die if they aren't also being protected by another protective role.
The only way you can die is through being lynched during the

Day

, so if the whole

Town

is against you (or any other faction that has the voting majority), you will most likely die. Utilize the support of any roles that do not oppose you (i.e.

Survivors

) to keep yourself from being lynched.
You will still automatically attack anyone who visits you when dead.
Strategy
However, back it up with fake proof and claims. Sometimes, it's also preferable to not accuse anyone and just go with the flow, as more experienced players may catch on. You also have to be careful that the information is accurate, and that you don't make yourself look suspicious in the meantime. Do try and act like a panicking

Town

member, but not to the point where you are obviously trying to mislead the rest of the

Town

.
Another option is to claim to be a

Town

Investigative

role that found someone that might be

Pestilence

. This method gives your lead credibility but will put you under suspicion when the

Town

realizes you were wrong. To avoid this, remember to claim that you investigated the person you are going after BEFORE they "became"

Pestilence

.
One strategy you can use as

Pestilence

, or basically any other evil role, is to act as a

Jester

. The only way to be killed as

Pestilence

is to be lynched (of course, except for leaving), and people want to refrain from lynching

Jesters

. As of version 2.3.0,

Jesters

can now haunt voters who abstain too, so it may be effective to keep acting like a

Jester

if you get on trial. Refer the

Jester

page for strategies regarding this. However,

Town

may be desperate too desperate in trying and find the

Pestilence

, and the

Jester

play might backfire, if the

Town

decides to take the chance and attempt to lynch you if they feel they do not need you, or if they want to give you the win. In the latter's scenario, either try and delay your death, convince the

Town

that you're a waste of time to lynch, or accept your mistake and die.
Dealing with the

Pestilence
If you have identified a likely

Plaguebearer

before they transformed, finding the

Pestilence

is easy. Otherwise, while

Pestilence

's ability to kill anyone who visits him is extremely powerful, it is also his sole weakness. Carefully read the wills of anyone who died to

Pestilence

, and try to figure out who he targeted. From this, you can deduce if anyone targeted them (and died as a result).
Additionally, once

Pestilence

has transformed, any player who was visited after the announcement and who didn't immediately die cannot be

Pestilence

. This can be used to rapidly narrow down the list of possible culprits.
As a

Doctor

, try to find another

Doctor

or even a

Crusader

to pair up with them. Since

Pestilence

only deals

Powerful Attacks

, paring up with them will give you the defense needed to withstand

Pestilence

. The

Doctor

/

Bodyguard

pair, however, are not as effective since

Pestilence

can just simply attack the

Bodyguard

and kill the

Doctor

with their rampaging ability.

Pestilence

kills both anyone who visits his target and anyone who visits himself. As a result, it is usually best to avoid unnecessary visits while

Pestilence

is active, especially if you are a member of the

Mafia

and there are few people left. (

Arsonists

,

Town

Protectives

,

Hex Master

(especially with

Necronomicon

),

Retributionist

and

Necromancer

may be exceptions).
If you are a

Jailor

, in your will write "Kill" or "Execute" next to the names you execute. This way, if you die from jailing

Pestilence

, the

Town

will easily know who the

Pestilence

is.
Because

Pestilence

can only be killed by lynching, it's usually best for killing roles to cease killing as long as

Pestilence

is active; an active

Pestilence

can reduce the population of the town extremely fast, and killing anyone (even dangerous enemies) may leave you without the votes to lynch them. Additionally, visiting to kill while

Pestilence

is active risks exposing you to both their rampage attack and death by visiting them.
In Lovers Mode,

Pestilence

will not die when their lover dies. Knowing this, you can carefully look at who claimed who was their lover, and deduce if they died along with their lover or not. If they didn't, they are most likely the

Pestilence

.
Trivia
Pestilence

is currently the only role in the game that cannot die at

Night

unless it quits. Not the loss of a lover, not a

Jester

haunt and not even the Unstoppable attack from a

Hex Master

or

Jailor

execution can kill it. However, there was once a bug where the

Pestilence

died during the

Night

from a broken heart, and can be viewed here.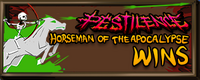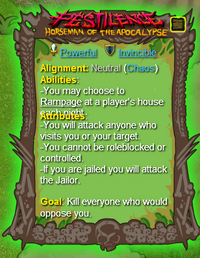 Before the switch to Unity,

Pestilence

's victory screen was much different than other victory screens at the time. This also applied with the

Pestilence

's role card.
Contrary to popular belief,

Pestilence

only delivers a

Powerful Attack

, meaning any role that grants

Powerful Defense

can stop an attack.
The outfit worn by the

Plaguebearer

is likely inspired by the outfit commonly worn by doctors in the Second Pandemic of the Black Death (1348-1352) for these reasons: the black wax cloth was covered with oil because it was believed that this would make it so the plague could not stick to them, and the mask (bearing the appearance of a bird's beak in the case of the doctor) was filled with fragrant herbs because it was believed that disease was caused directly by foul-smelling air, which would be filtered out by the herbs.
References
History