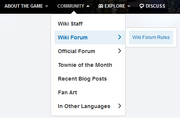 "
Do not post multiple times in a row. If you have a FANDOM account, you are able to edit your own posts. If a user is spotted posting multiple times in a row, moderators may merge the user's posts and the moderator may hand out a warning or a block if deemed necessary.

This rule applies to all boards.
Some exceptions may be made, such as if a user is providing updates or valid "bumps".

"
 
@Penove be a helpful guy and tell him rule 7.