She had never envisioned her life like this, and she never asked for it. One night, many moons ago she was bitten. Merely a Lookout at the time, she became much more ever since. To some it was a blessing, and to some, a curse; she hadn't decided yet. But she knew it was a full moon, and she knew that meant she needed to feast. Skulking through the alleys of Salem, the Vampire stumbled across the Escort, paying a visit to a nearby home. The Vampire felt bad for her, but she must feed. She lunged out at the Escort, reaching her prey before it even knew what was going on. Sucking the life out of her, she left the mangled, lifeless corpse in the alley. The Werewolf's howl could be heard in a nearby home, but that didn't concern her. She was really on the lookout for the Vampire Hunter, who reeked of garlic. He would be carrying his stakes and holy water, as the Vampires would be active this full moon, but it was for naught. The Hunter was too late to save the Escort, so soon enough he'd have another problem to worry about. She morphed into a bat and took off into the air, looking down on the town below. As the faint beams of the sun began to peek out, she looked down upon all the residents of Salem, her soon to be meals. (credit)
Mechanics
Basics
You may VOTE to bite someone each night. If you successfully convert someone, you must wait another

Night

before biting again.
The youngest

Vampire

will always visit the selected target for conversion. The selected target is decided at random from all targets voted on by a

Vampire

; it is not a democratic vote. For example, if two

Vampires

vote for Samuel Sewall and one

Vampire

votes for Jonathan Corwin, then Samuel Sewall has a 2/3 chance and Jonathan Corwin has a 1/3 chance to be bitten that evening.
You can only convert players that have no

Defense

. Biting members of the

Mafia

,

Coven

, a

Witch

(without

Defense

), a

Guardian Angel

, a

Pirate

, or any roles with no

Defense

after you have four or more

Vampires

alive will result in you killing them instead. In turn, you will be able to bite again in this case the next

Night

.
If you attempt to convert a

Vampire Hunter

, they will attack you and be unharmed.

ALL

Vampires

will see who was visited (and thereby bitten) by the youngest

Vampire

even if one of them was controlled by a

Witch

/

Coven Leader

.

For Example, if the Vampires all voted to bite Deodat Lawson, the message "The Vampires visited Deodat Lawson last night." will be shown to all

Vampires

.

Crusaders

are unable to kill you, but will prevent your target from being converted into a

Vampire

.

Ambushers

CAN kill you, but they cannot prevent your target from being converted into a

Vampire

.
1 In addition, this role will kill the youngest Vampire.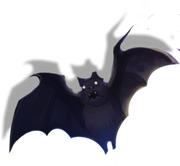 2 If the Town Protective is a Bodyguard or Trapper, they will kill the youngest Vampire. Crusaders and Doctors will only prevent conversion along with other attacks. Other visitors can be attacked however by a Crusader.
3 If the immune target is Pestilence or a Werewolf staying home, they will kill the youngest Vampire. Other roles with Defense will only be notified that someone attacked them. Arsonists and the Plaguebearer will know who attacked them due to their passive ability.
M A Medusa who is using a Stone Gaze on the night they were bitten will die along with the youngest Vampire being Stoned.
How

Vampires

Affect Other Roles
Strategy
Which Roles to Convert & Not to Convert
The most important thing is to find targets you can convert, and to avoid ones you can't. Never try to bite anyone you suspect of having permanent

Defense

, such as a 

Serial Killer

.
Your highest priority are semi-confirmed

Townies

that cannot visibly confirm themselves, such as the

Retributionist

,

Spy

,

Medium

,

Lookout

,

Doctor

, and

Bodyguard

. They can lead remaining

Townies

to false direction. However, if your target is fully confirmed, it is not in your best interest to bite them, as they probably have

Town

Protective

roles or

Lookouts

on them. Additionally, if the

Lookout

discovers that a

Vampire

visited their target (if they lynched the visiting

Vampire

), then they can instruct an

Escort

or the

Jailor

to role block the potential youngest. A similar effect can happen with an

Ambusher

and a

Consort

.
Around the transition to the late game, it may be helpful to convert semi-confirmed roles such as a

Transporter

. If someone starts to ask why nobody is role blocked or transported,

Vampires

may pretend one of them has been blocked or transported. 
Consider converting an outed

Jester

who has no chance of winning, as it is unlikely that anyone will ever bother them. It would also prevent them from siding with

Mafia

, or otherwise being an absent vote as

Mafia

approaches majority.
Converting a known

Amnesiac

is a bit more risky, as people will start to question why the

Amnesiac

hasn't chosen a role, making them more likely to be lynched. The main reason to do so is if

Mafia

is approaching majority, it would prevent them from choosing a

Mafia

role, outright giving them said majority.

Town

Killing

roles, such as the

Jailor

and

Vigilante

, are double-edged swords. They can kill

Mafia

and/or

Neutral

Killing

roles (which are enemies), but they also can kill

Vampires

. It is advisable to keep them intact until they start to suspect

Vampires

.
A

Sheriff

or

Investigator

can help at finding enemies, and the

Sheriff

in particular is unable to find

Vampires

, so it might be best to not bite them until after most of your enemies are dead.
DO NOT convert a revealed

Mayor

unless you are sure that your team will have the majority afterwards. Their identity can be immediately re-confirmed during the day (by attempting to whisper to the

Mayor

). The

Mayor

's vote would be counted as 1 instead of 3, and the

Mayor

will be able to send and receive whispers again. Their identity can also be tested during the night phase (the

Doctor

would be able to heal the previously revealed

Mayor

who is now a

Vampire

). The

Vampire

-

Mayor

will become easy pickings for any killing or role blocking role, or simply lynched.
It's advisable not to convert a known

Veteran

, as they may be on alert and the

Vampires

may lose their youngest. If you do manage it, however, the

Veteran

can become a valuable

Vampire

, as no evil wishes to visit a

Veteran

.
Try to spot and avoid the

Vampire Hunter

, as the youngest

Vampire

will be staked after visiting him.

Also try to spot and avoid roles that can't be converted. Some roles can even kill the youngest

Vampire

, such as a

Werewolf

who stayed at home, or 

Pestilence

. Do not waste time converting

Survivors

,

Amnesiacs

 or 

Jesters

either, unless you want to make absolutely sure they will be on your side. Remember that these roles, while likely to side with you, are still wildcards. They can win with anyone, and that "anyone" doesn't have to be you.

Do not attack people who attract too much attention, such as "

Jesters

" who are acting all too obvious. They may be a

Veteran

baiting, watched by a

Lookout

, jailed by a

Jailor

, or killed. Try to predict who will not be attacked. Visiting completely silent people is not a very good idea either, as they are often enemies who have Basic or higher

Defense

.
If an

Executioner

makes their move early and it plays out badly, consider converting their target. Not only does this confirm the new

Vampire

as a

Townie

, and they can claim what ever is needed to have someone else lynched. However, if it looks like

Town

may believe the

Executioner

, or the "

Executioner

" might actually be whatever role they are claiming, your new

Vampire

might be lynched, which both outs the fact that

Vampires

exist and wastes your night biting them.
Remember that whoever you convert ends up on your side. Therefore, you should try to convert people who seem alert, intelligent, and serious about the game– both to side with them and to prevent the threat of you becoming enemies. Unlike other roles,

Vampires

are permitted to choose who their teammates are.
You can bite members of the

Mafia

to kill them. Doing so doesn't count as a successful conversion, meaning you can bite again immediately the next night. If you have a confirmed member of the

Mafia

, you should seriously consider biting them. Things to keep in mind:
Biting a

Survivor

can be useful to deny them the option of voting against you, but it's risky - if they use a vest, your night will be wasted. Biting confirmed

Survivors

may give you an outlet to find out

Mafia

members and

Neutral

Killing

roles, as they often whisper to

Survivors

to side with them. Before biting a

Survivor

claim, see the

Town

's attitude towards

Survivors

, because if you're in an aggressive

Town

your new

Vampire

will be lynched, shot or executed, wasting your night and outing the fact your role is in the game.
A risky, but rewarding bite is biting a

Psychic

(confirmed or not), since they can still pretend to be

Psychic

while siding with the

Vampires

. 

Psychic

 claims can use fake good and evil results to trick the

Town

, but one downside to this is that it forces the converted to guess who is good and who is evil. A wrong guess will likely have the

Psychic

lynched. This can also be a decent method of bussing, if you are unsure of who to put in your results.
If a

Guardian Angel

is in the game, consider biting their target. If they're

Town

, you now have 2 new allies in one night, and if they're in another evil faction like

Mafia

and

Coven

, you'll gain a

Survivor

. Beware if you've killed their target though, as they may harbor judgement for the death of their target.
The

Coven

can easily take out your enemies, but they can also take out your team. Some of their roles can also heal, getting in the way of your conversions, and some roles have basic defense, meaning you can't directly kill them.
The 

Pirate

cannot be converted, so truce with them, as they are basically an attacking

Survivor

. It's easy to make a deal with a

Pirate

, as you can regain teammates if they attack them. They can roleblock or call out your team though, so make sure you can trust them. Never allow your youngest to be a sacrifice to a

Pirate

.
General Tips
Trivia
History